Meet TedOS: The Expectant Dad Operating System
New Fatherhood. Simplified.
Fatherhood starts here. Everything you need to know, buy and do before welcoming a tiny human being into your life."Brilliant. Like a modern day, dad-focused What to Expect When You're Expecting"
Anthony, Verified Review ⭐️ ⭐️ ⭐️ ⭐️ ⭐️
for dads, by dads.
Overwhelmed already? We're here to help.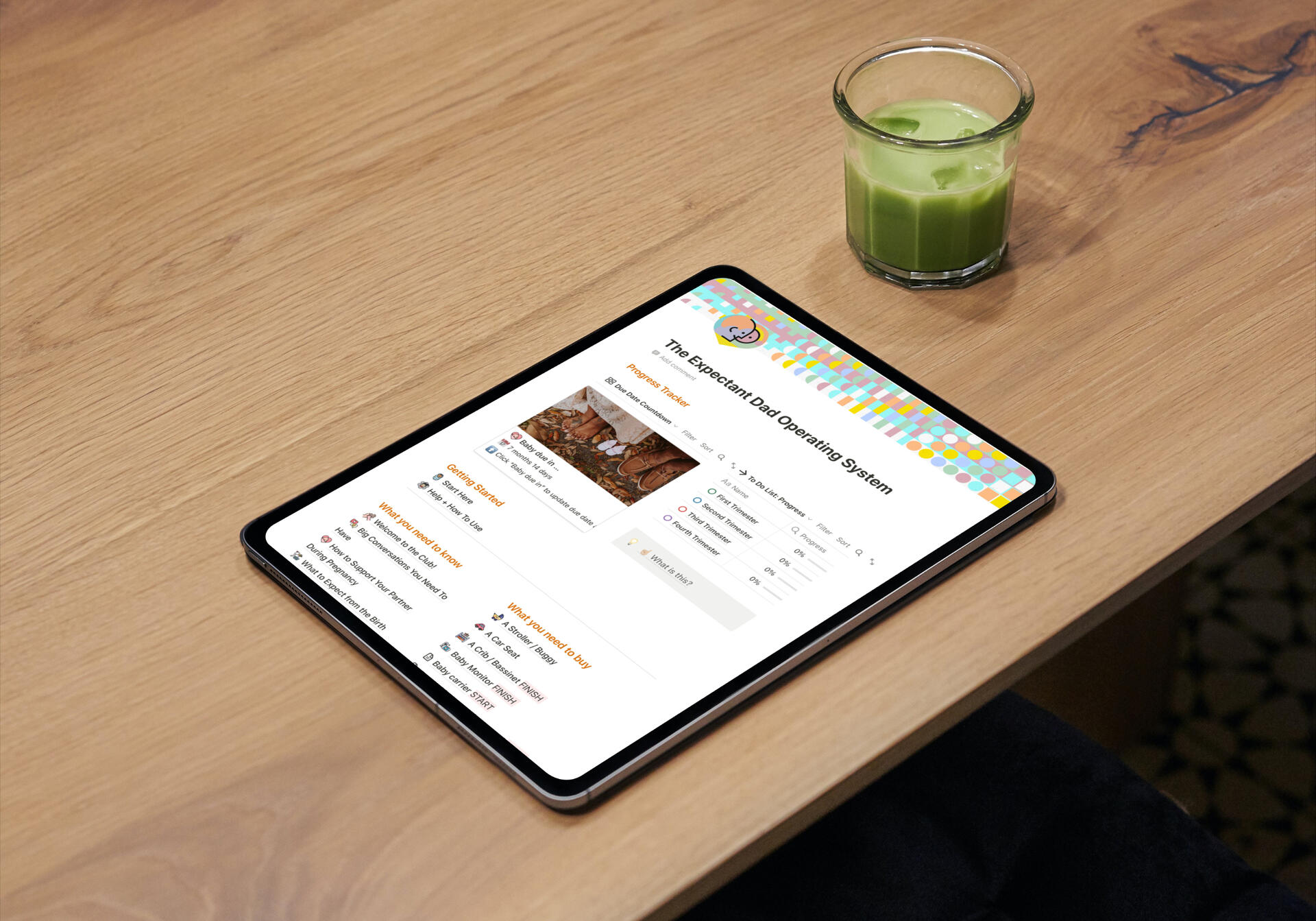 As an expectant dad, you're feeling all kinds of emotions: excitement, anticipation, and maybe even a little fear. Don't worry. This is completely normal.I've been there. Twice. In 2020, I started The New Fatherhood, which quickly became what Esquire magazine called "one of the best newsletters on the internet." I've had dozens of expectant dads email me from exactly where you are now, asking, "I've got a baby on the way—and I need help!"Because there's no manual. And whilst there are enough books to fill a thousand bookshelves, the dad ones are generally not great. And you don't have the time to read multiple 300-page books-that-could-have-been-a-blogpost in the hope of finding the right one.That's why I created TedOS: to help dads with a baby on the way know everything they need to know, the important decisions they need to make, all the gear they need to buy—and importantly, everything they don't—all together in a Notion dashboard that will hold their hand through uncertain waters. I've spent over 100 hours putting this together, crawling through the web, reading the books and tapping into the hive mind of the 10,000 dads who read my newsletter every week.
---
What's inside?
What's in the box?
Well, it isn't a box, for starters. I just like the Windows XP vibe. It's a dashboard that's been built in Notion, an app used by millions of people across the world and best described as "Apple Notes on steroids" or "your second brain."With TedOS you'll be able to stay on top of everything during pregnancy. You'll have access to a master checklist of everything you need to do, heartfelt essays that will help you better understand what's coming, and personalised tips that will make you feel like an expert in no time.Imagine being able to anticipate your partner's needs, to know what they need before they even ask, to provide the support they need during this time, and the feeling of pride that comes with being the rock they can lean on. TedOS makes all of this possible, and more.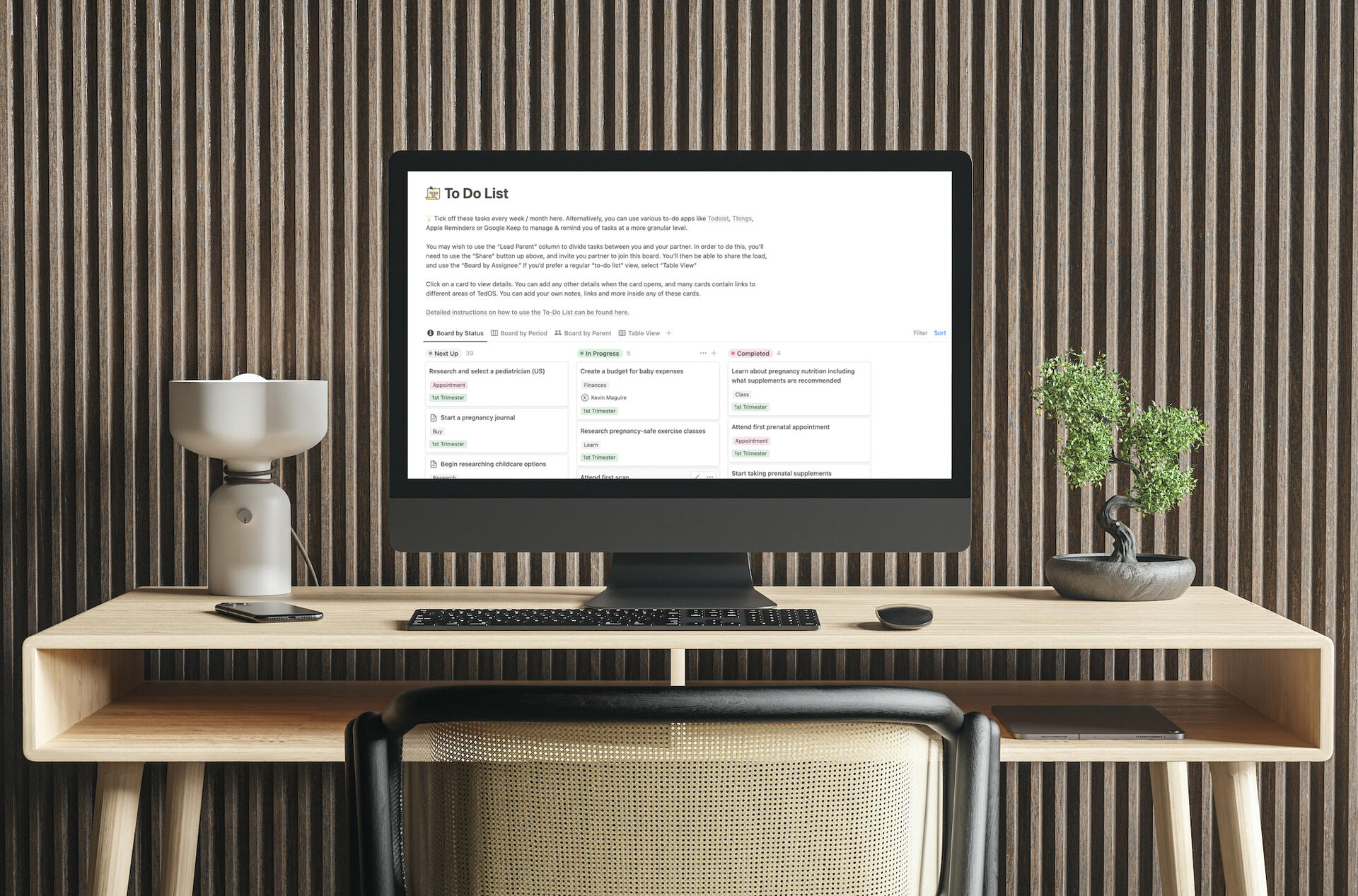 A master pregnancy to-do list (with the ability to easily add your own items) containing everything you need to think about, organise and get ready, with progress bars keeping you on track

Collaboration tools built-in, meaning you can share this with your significant other and keep in sync across whatever devices you're using

Buying guides to help you find the perfect stroller, crib, car seat, baby monitors, baby carrier and more.

Short essays from The New Fatherhood on topics like: essential conversations to have with your partner, how to support them during the pregnancy, what to expect during the birth, common challenges for new dads, the role for dad in breastfeeding.

Tips and tricks on saving money through buying pre-loved baby gear, which items need to be purchased, and how to avoid getting suckered in by new baby marketing

Insight from a global community of dads, offering advice on how to deal with stress, changing careers after a child, keeping fit with a baby, staying organised, and more

Recommendations galore to help you on your journey to becoming a dad: podcasts, apps, books and more

Tools to help you manage baby budgets, daily dad-to-be journalling, planning for the first year, tracking key milestones and building better habits

How to get mentally prepared for the opportunities ahead

A guide to the post-partum period, and advice and tips for when times get hard (which they may)

100+ hours of research and work done that I'm quite happy for you to pass off as your own 😉
Buy once. own forever.
Pricing
No monthly subscriptions, no hidden in-app purchases. Buy in once, own it forever—including all future updates.
This product supports parity pricing through Gumroad so your actual price may be lower, depending on your location.
---
Home Edition
$60
TedOS in its entirety. Includes configuration guide, everything outlined above, and all future updates.
Comes with a 30-day money-back guarantee.
---
Community Edition
$100
Everything included in Basic, along with one-year access to The New Fatherhood community. Get support from other new fathers—and old timers like me, too— and 200 other dads. We come together to share stories, ask questions, and support each other to be the very best dads we can be.
33% discount on the regular community access price.
---
Professional Edition
$200
Everything included in the Community Edition, along with a 30 minute "fatherhood pep talk" with Kevin, creator of TedOS and founder of The New Fatherhood, where he can answer any questions you might have and guide you through TedOS.
Don't just take my word for it
"Thank you so much for building TedOS. The to-do list is brilliant. It's much more comprehensive than what I had or found out there! I'm now checking those boxes off and moving them around + adding things based on our needs. All those thought out tags have also been super useful for me to filter things out."
Adib, Verified Reviewer ⭐️⭐️⭐️⭐️⭐️
a helping hand for all dads-to-be
Who made this?
TedOS has been lovingly crafted by me, Kevin Maguire. I'm the founder of The New Fatherhood, one of the most popular fatherhood newsletters on the internet. Esquire Magazine said it was "like one big group text with other guys fumbling their way through parenthood."In the two years that I've been writing for fathers across the world, the number one email I get is from dads-to-be, overwhelmed with everything that's out there, and wondering where to start. I wanted to create the thing I wish I had before the birth of my first—everything I needed to know, in a format I could access anywhere, edit and contribute to myself, and track my journey to becoming a dad. This is a practical, hands-on guide that will get you from 0-100, fast, and something you will be able to use and reflect upon in the future.This has been built with my wife, taking everything we've learned from having two children together, and making a tool that dads can lean into, and share without their partners feeling overwhelmed.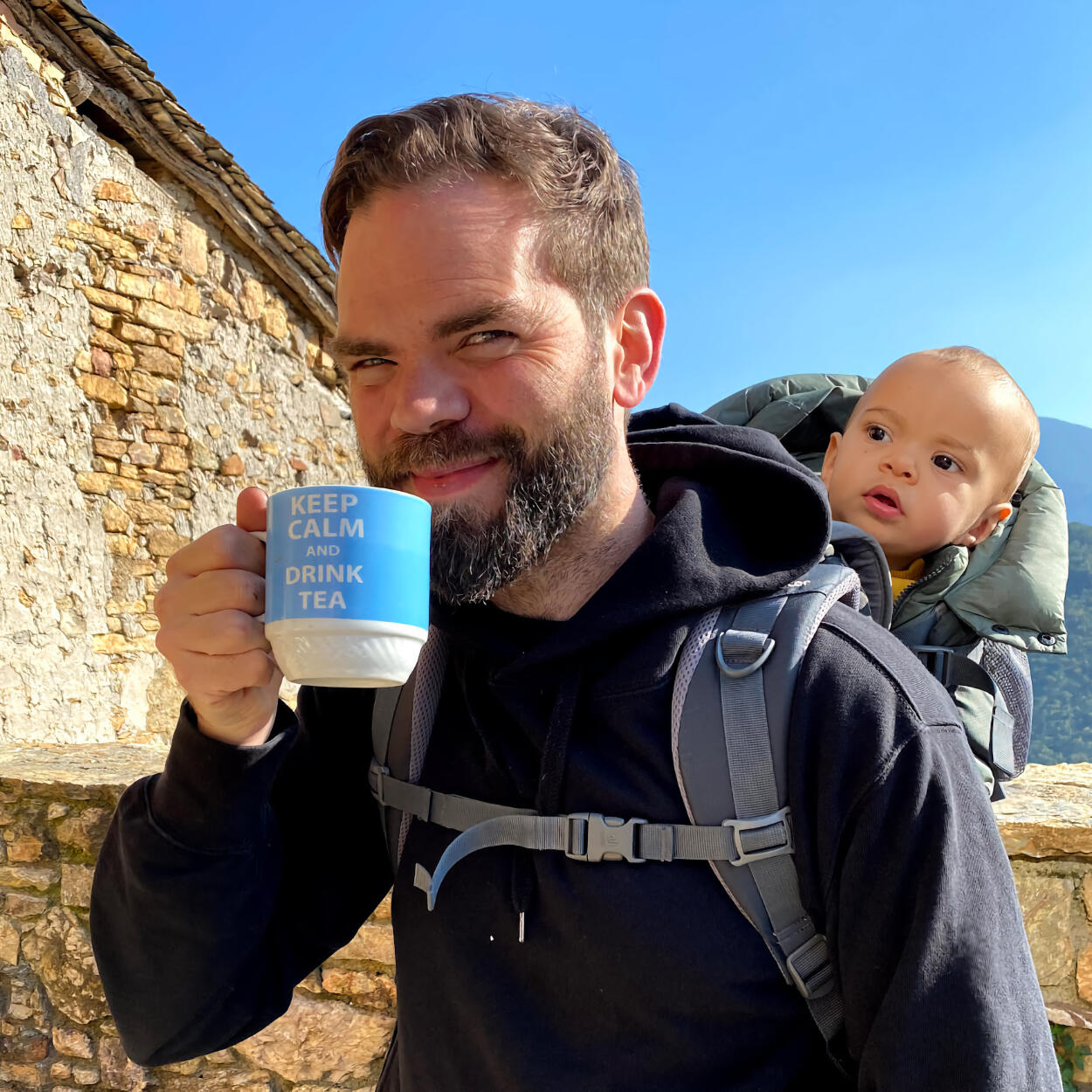 a helping hand for all dads-to-be
FAQs
How does it work?
After purchasing, you'll be given a link add TedOS to your own free Notion account. This will give you access on your laptop, tablet and mobile, and will be instantly synchronised across all devices, meaning you can access it whenever, wherever, and be ready for anything.What is Notion? Do I need to buy it
Do not fear. Notion is an intuitive, highly customisable tool that comes with a generous Personal plan meaning you can use TedOS without having to pay anything extra.Is this really worth $60?
I've spent 100+ hours researching books, collating reviews, pulling together Reddit threads and working with 10,000 dads to bring it all together in one place.I've designed this with a bias towards action, with ongoing indicators allowing you to see the progress being made as you get ready for the birth of your child.Can I buy this as a gift for another dad?
100%. Click the buy link, and then you can choose "buy as gift" during checkout.Do you have a refund policy?
Absolutely. If you feel TedOS hasn't provided you with any value, write to me within 30 days and I'll give you a no-quibble refund.
Sign up to The New Fatherhood
Join more than ten thousand dads reading what I'm often told is "the best email I get all week."No spam, ever. Unsubscribe at any time with one click.
Signing off
Questions
Wondering whether TedOS is for you? Or any other burning questions about fatherhood? Get in touch.
© A Quickhatch Project. All rights reserved.